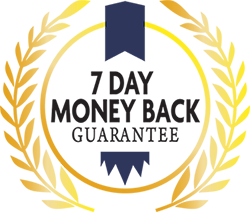 Buying a vehicle can be exciting and overwhelming at the same time. We understand that buying a vehicle is a large purchase and that it takes more than a quick test drive to know that you'll love your new vehicle. What if it's not really the color you wanted? Maybe an SUV would have been a better fit. We get it and want you to be happy with your purchase. We feel like 7 days is enough time for you to make sure that you have picked the right one for you! That's why the Jenkins Auto Group offers you a 7-day money back guarantee on every new and pre-owned vehicle. It really is that simple.
Need assistance with processing your return or exchange?
Please contact our Customer Relations Director, Maria Patino at 352-815-2537.
Day one starts the day you purchased your vehicle. If you choose to return your vehicle, it must be returned on or before the 7th calendar day. You may drive the vehicle up to 400 miles during your 7-day period. You can still return the car if it's driven over 400 miles, however, for every additional mile after the 400-mile limit, we will charge you a fee of $1.00 per mile. We cannot accept a return where the vehicle has been modified, damaged, or altered from its original condition when purchased. We also cannot accept a return if the vehicle has been in an accident or has had a lien or other encumbrance put on the vehicle (other than the retail installment contract you signed with Jenkins.) This is a limited time offer.