| | 0-60 MPH in 5.2 seconds and up to 300-mile targeted range depending on trim selected. |
| --- | --- |
| | Gain 217 miles of range with only 18 minutes of fast charging. |
| --- | --- |
| | 0-60 MPH in 4.6 seconds, faster than a Porsche Cayenne Coupe. |
| --- | --- |
ELECTRIC PERFORMANCE
Power that moves you.
Instant Acceleration
With an all-electric drivetrain, the EV6 offers a powerful driving experience. All models feature the instantaneous response of an electric motor, with select trims capable of delivering 446 lb-ft of torque for a 0-60 mph time of 4.6 seconds — beating the 335-hp 2021 Porsche Cayenne Coupe in independent 1/4 mile tests certified by AMCI Testing.
5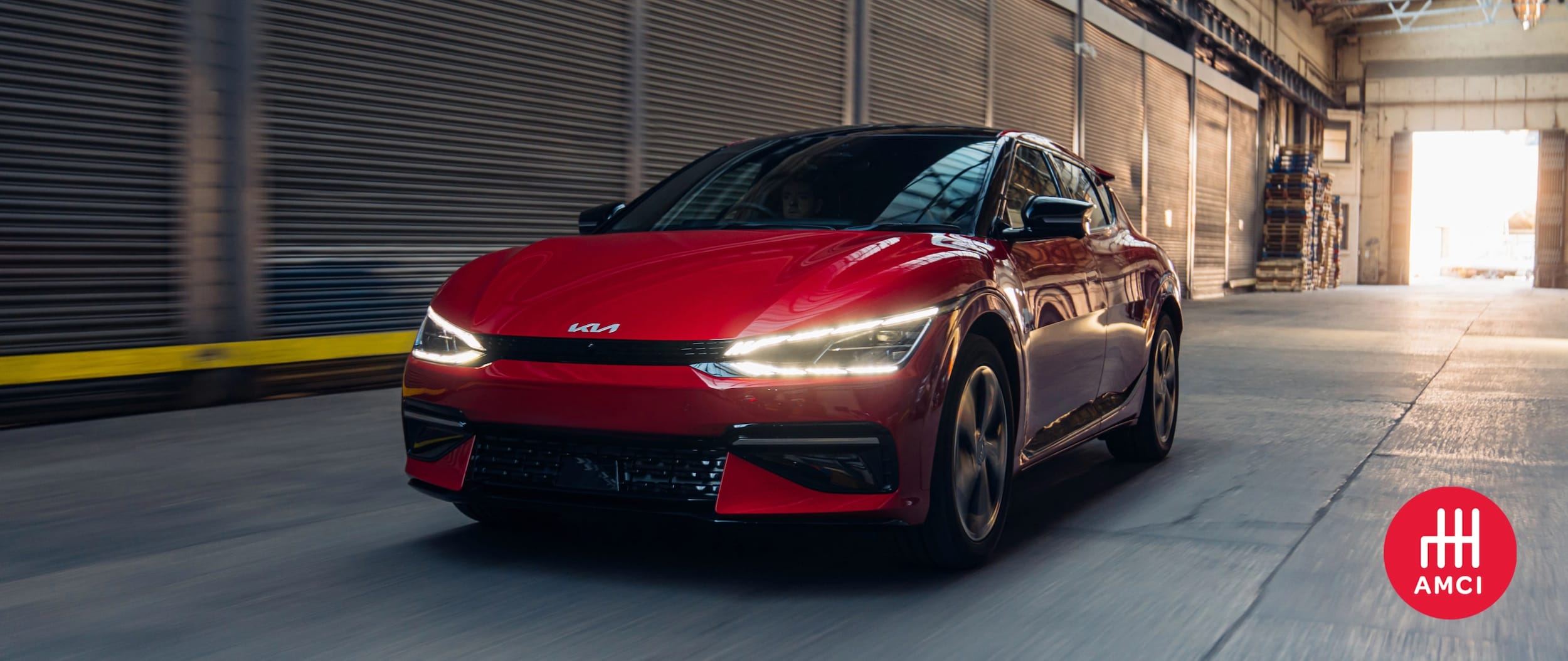 RWD or AWD Capability
The EV6 comes standard with RWD and a multi-link rear suspension to deliver responsive and sporty handling. Available models with Torque-vectoring e-AWD feature dual motors to deliver superior acceleration and all-weather grip.
6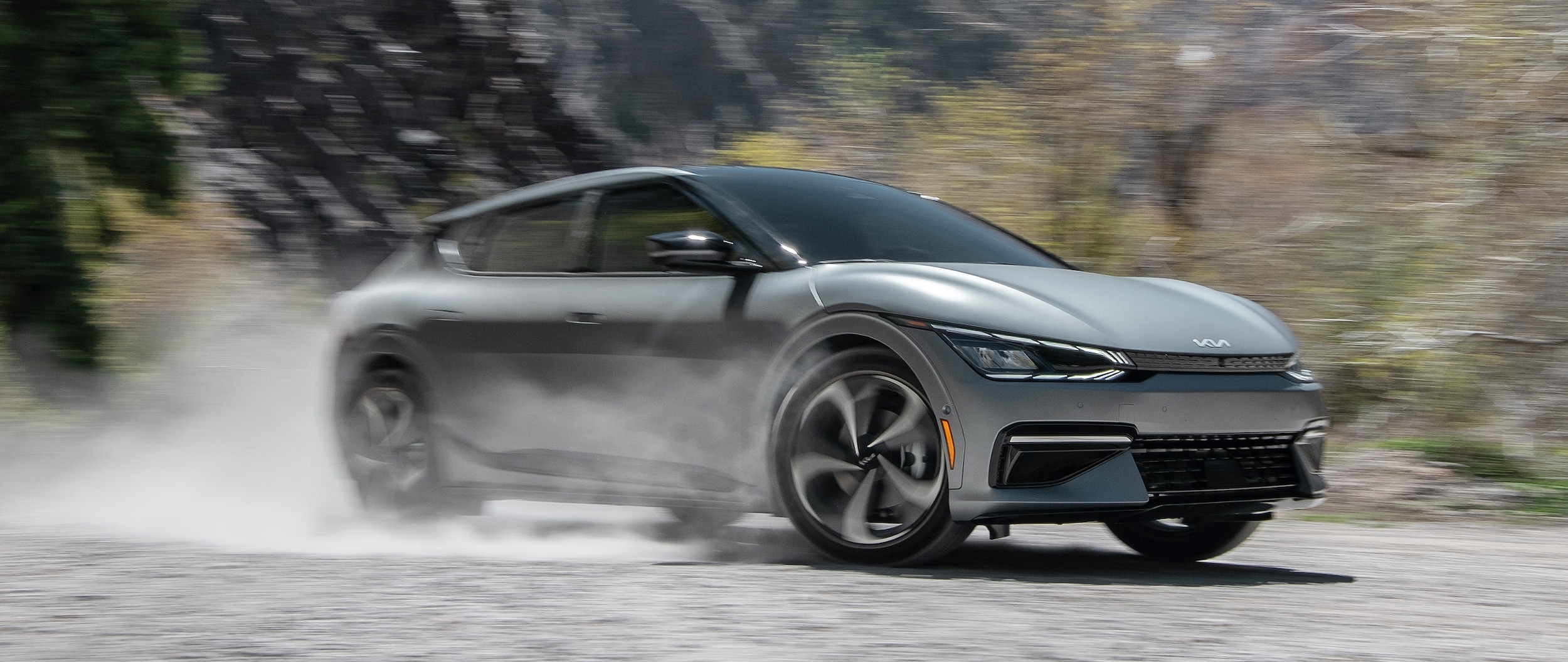 Revolutionary New E-GMP Platform
The EV6 is our first vehicle to utilize our E-GMP architecture. Developed exclusively for our electric vehicles, it utilizes significant amounts of ultra-high-strength steel to provide a structure that's both lighter and stronger, delivering better handling, safety, and interior volume comparable to many mid-size SUVs.
Thrills At Every Turn
Pre-production EV6 model shown. Features, colors, materials, accessories and specifications on pre-production model may vary from production model. Wherever the road takes you, getting behind the wheel of an EV6 is a thrilling experience. With a low center of gravity, a powerful all-electric engine, and impressive handling, the EV6 is a pleasure to drive.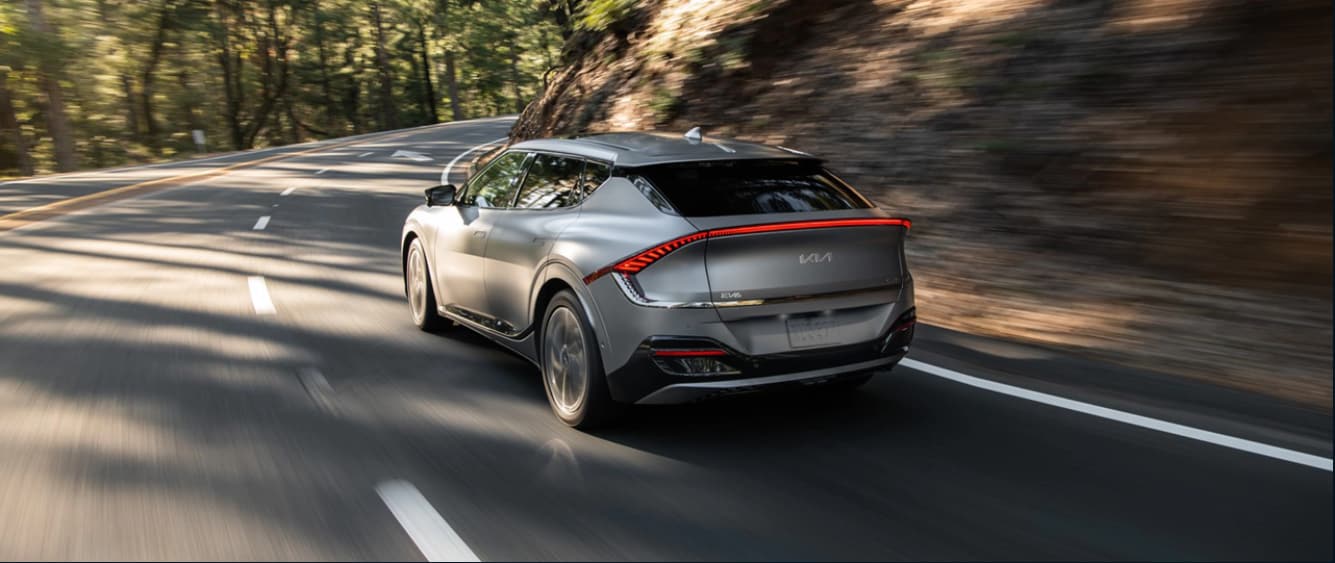 BATTERY AND CHARGING NETWORK
More driving, less charging.
Ultra-fast DC Fast Charging
The EV6 comes with 1,000 kWh of charging credits on the Electrify America network. Its versatile system works with both 400v and 800v DC fast chargers. Using an 800v DC fast charger provides up to 217 miles of range in only 18 minutes.
7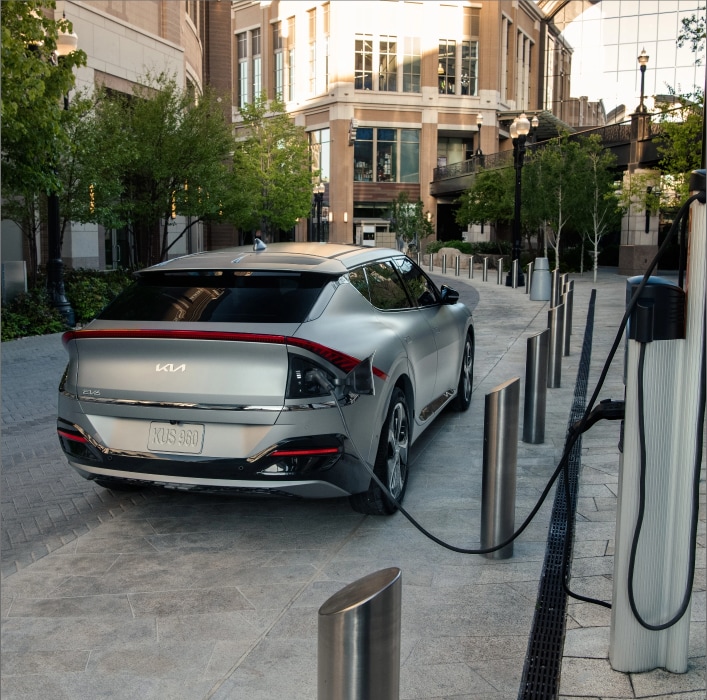 Extended Range to Roam
With the EV6, you have the freedom to go further. The available 310-mile range lets you explore far and wide without having to worry about charging.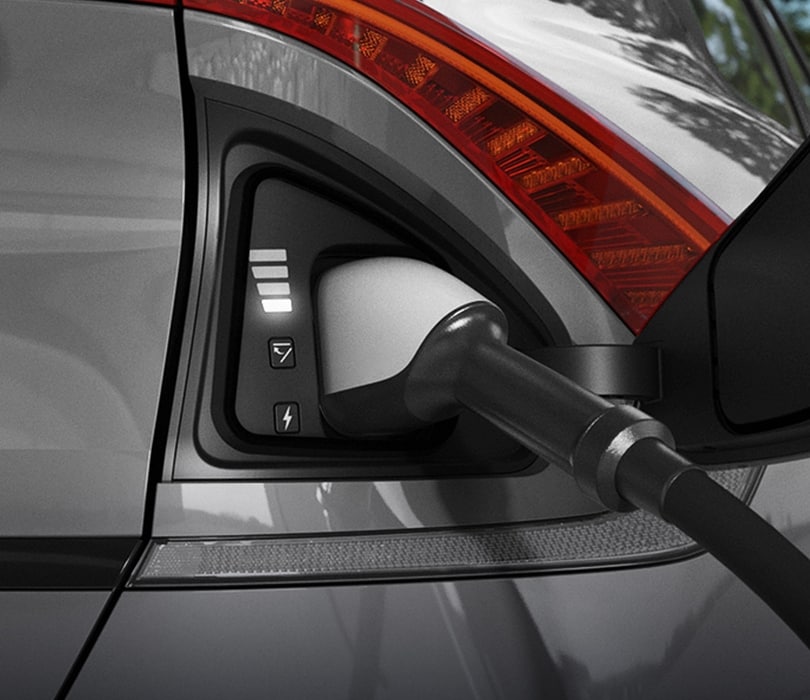 Charge on the Go
With over 41,400 and growing charging stations available in the US, it is easy to find charging stations along your route — including 400v DC fast chargers and higher. You can easily find charging spots and monitor your vehicle's charging status using the Kia Connect app or from your EV6 12.3-inch touchscreen display in your EV6.
8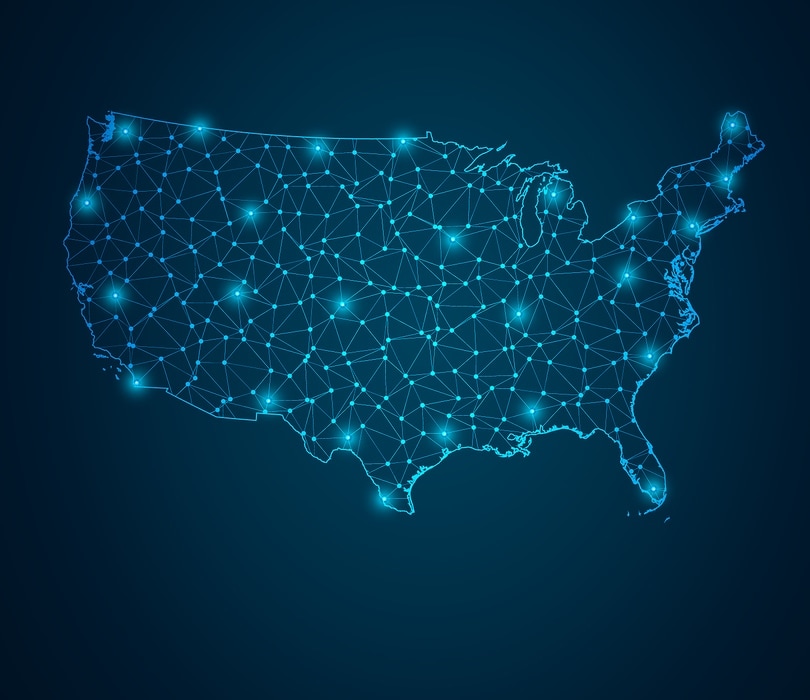 Charge at Home
An 11kw on-board charger allows for a Level 2 240v recharge overnight from home, enabling you to have a full battery every morning. And with the Kia Connect app, you can check the status of your battery, remotely control when your EV6 charges, pre-heat or cool the interior of your EV6 while still connected to the grid, and much more.
9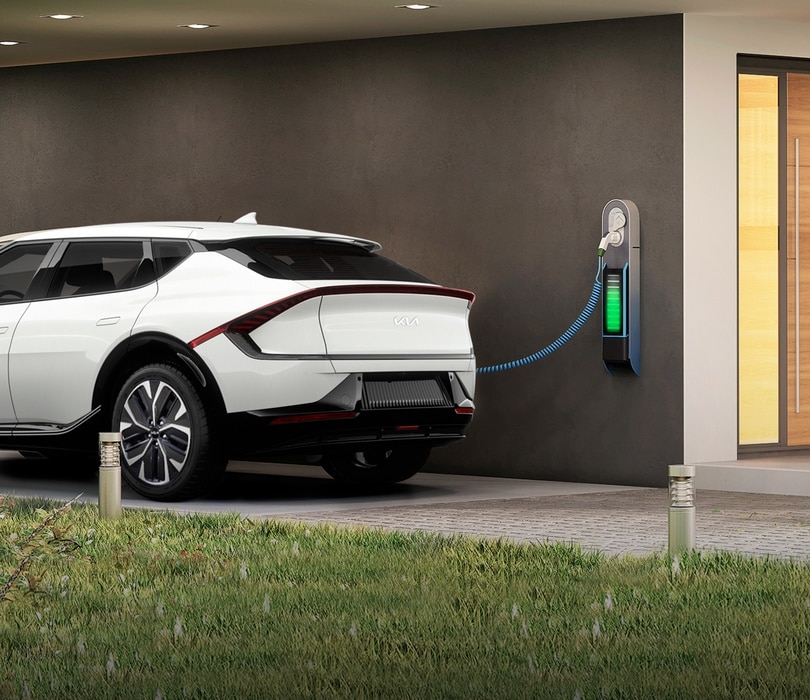 EV Trip Planner
A full charge is closer than you think. The EV Trip Planner Map can help you view EV charging stations along your route to enjoy a more confident ride.
INTUITIVE TECHNOLOGY
The future is on full display.
Dual Panoramic 12.3-inch Screens
The Curved Panoramic 12.3-inch Screens provide a stunning, 24 inches of combined curved display for navigation, diagnostics, convenience, entertainment, and immersive vehicle information features. An integrated blue light filter helps reduce eye strain and driver fatigue.
14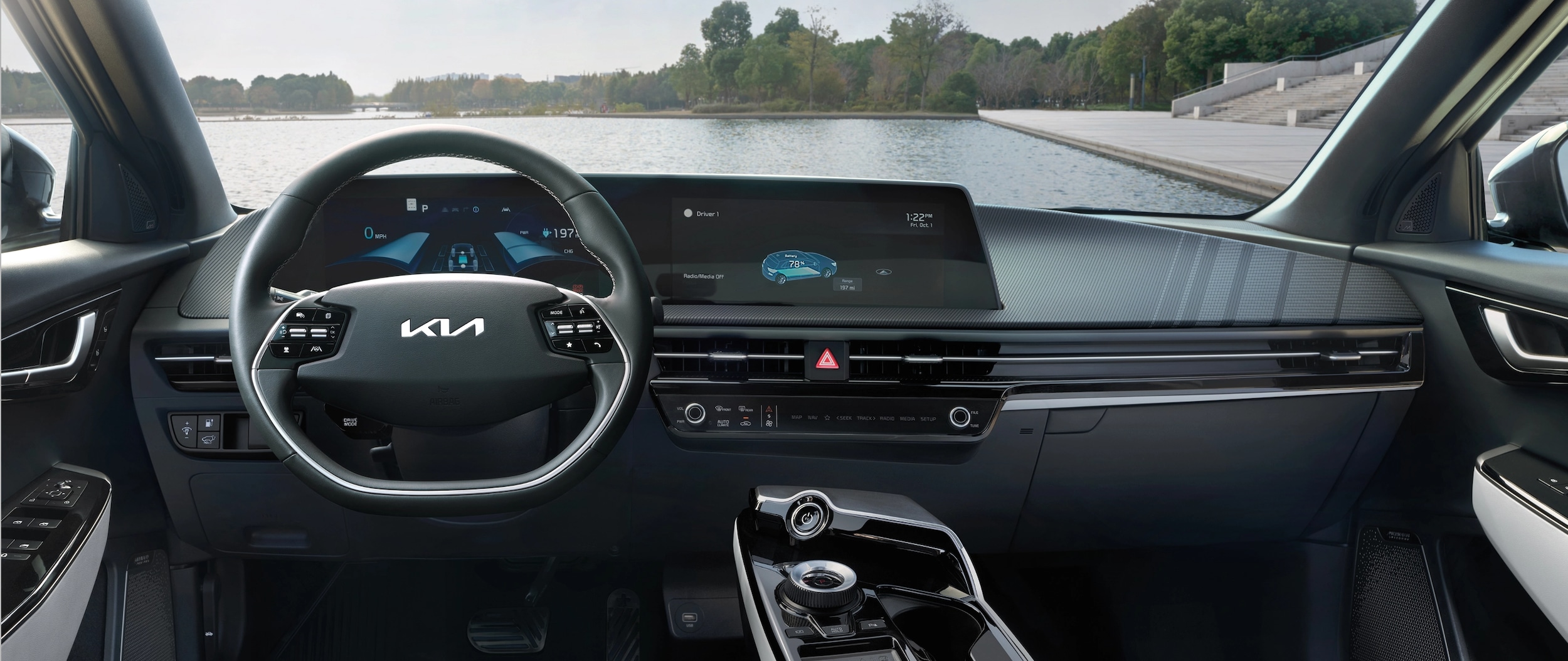 Augmented Reality Head-Up Display
The available groundbreaking head-up display (HUD) shows key safety information and route guidance in augmented reality, providing additional info to help keep your eyes focused on the road ahead of you.
15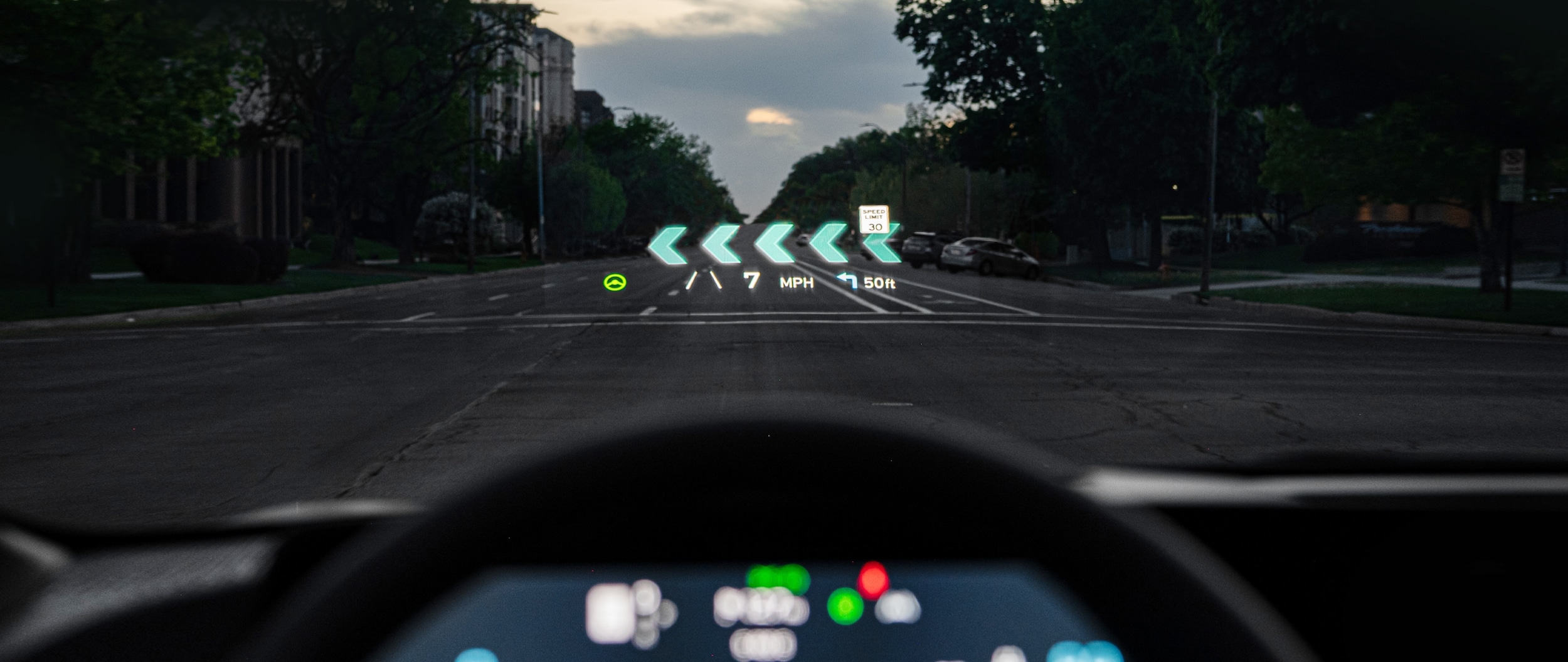 Virtual Valet
With Virtual Valet Parking Assist, you can remotely park and exit parking spaces from outside the vehicle. Vehicle sensors automatically control the steering wheel, vehicle speed, and gear shifts to easily guide your vehicle into both perpendicular and parallel parking spaces.
16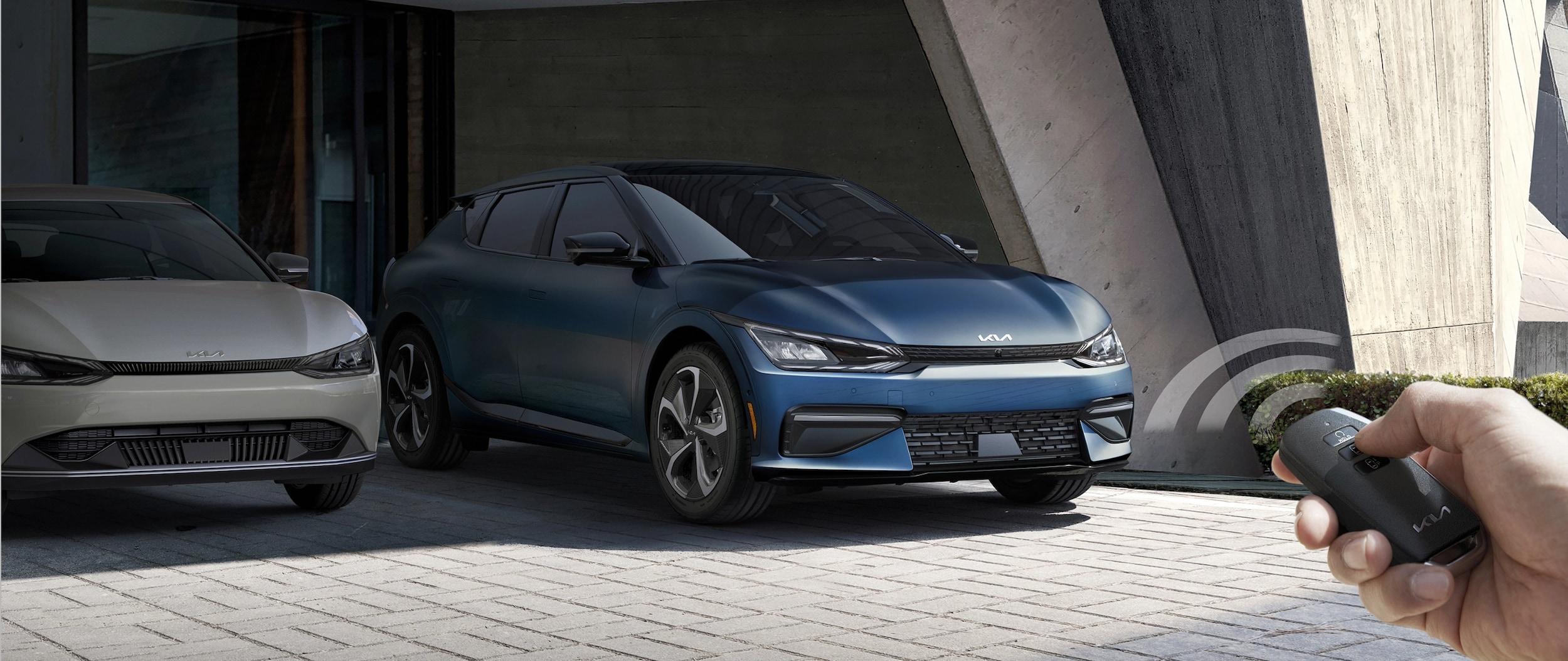 Dependable Connectivity
Connect your personal device or Apple Watch to your vehicle via the Kia Connect app to remotely manage charging, set cabin temperatures, monitor energy usage, and more. Wireless smartphone charging also lets you charge a compatible smartphone just by placing it on the charging tray.
17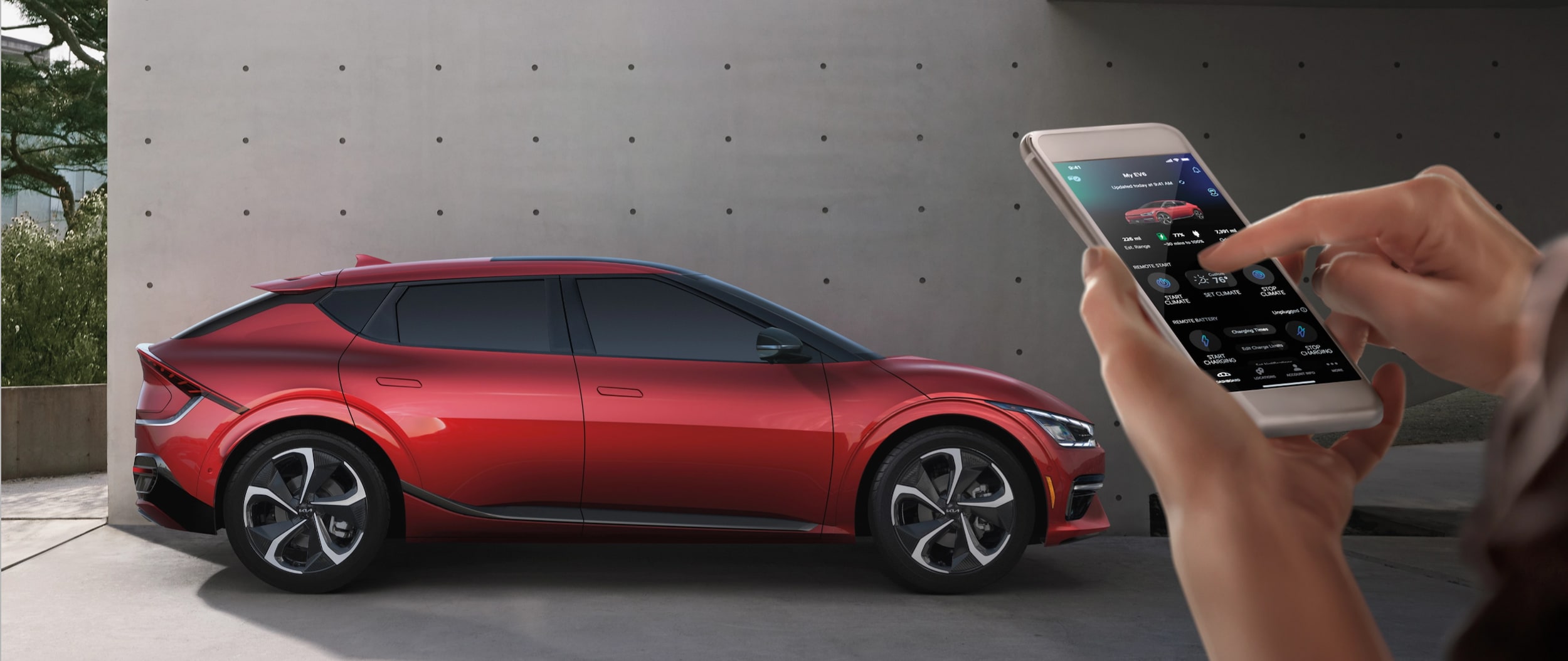 KIA DRIVE WISE
We've got your back. And your sides and front too.
Blind-Spot View Monitor
This available feature displays a live feed of your right rear blind spot in your instrument panel. If you try to change lanes while an object is detected in the blind spot, Blind-Spot Collision-Avoidance Assist-Rear can help maintain your previous course.
21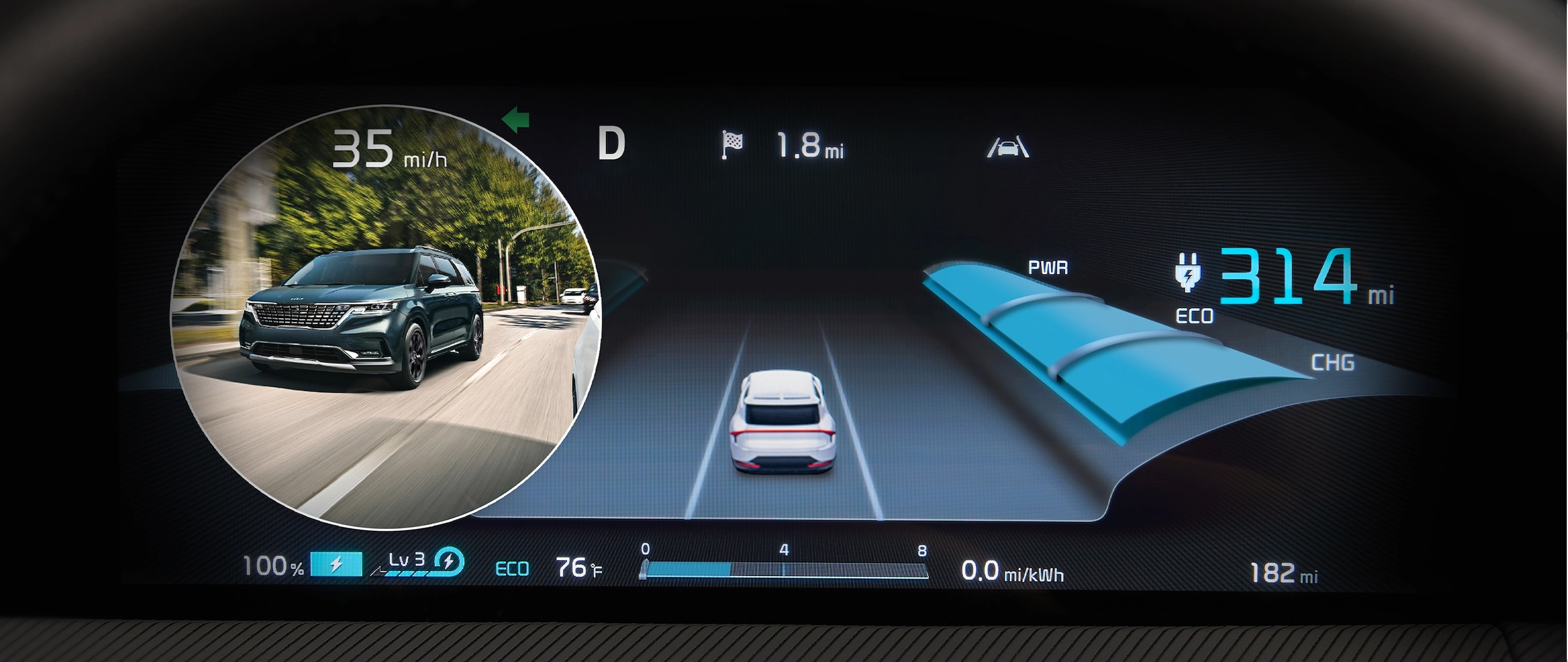 Surround View Monitor
Using four exterior mounted cameras, the Surround View Monitor provides a bird's eye view of your surroundings to enhance awareness and when maneuvering your vehicle in certain situations. This feature is especially useful when parallel parking.
22
Forward Collision-Avoidance Assist
The standard Forward Collision-Avoidance Assist uses sensors and cameras to scan the road ahead and to the side for potential hazards. The active system continuously monitors for potential collisions with other vehicles that are ahead of you, and monitors for oncoming and crossing vehicles at intersections as well.
23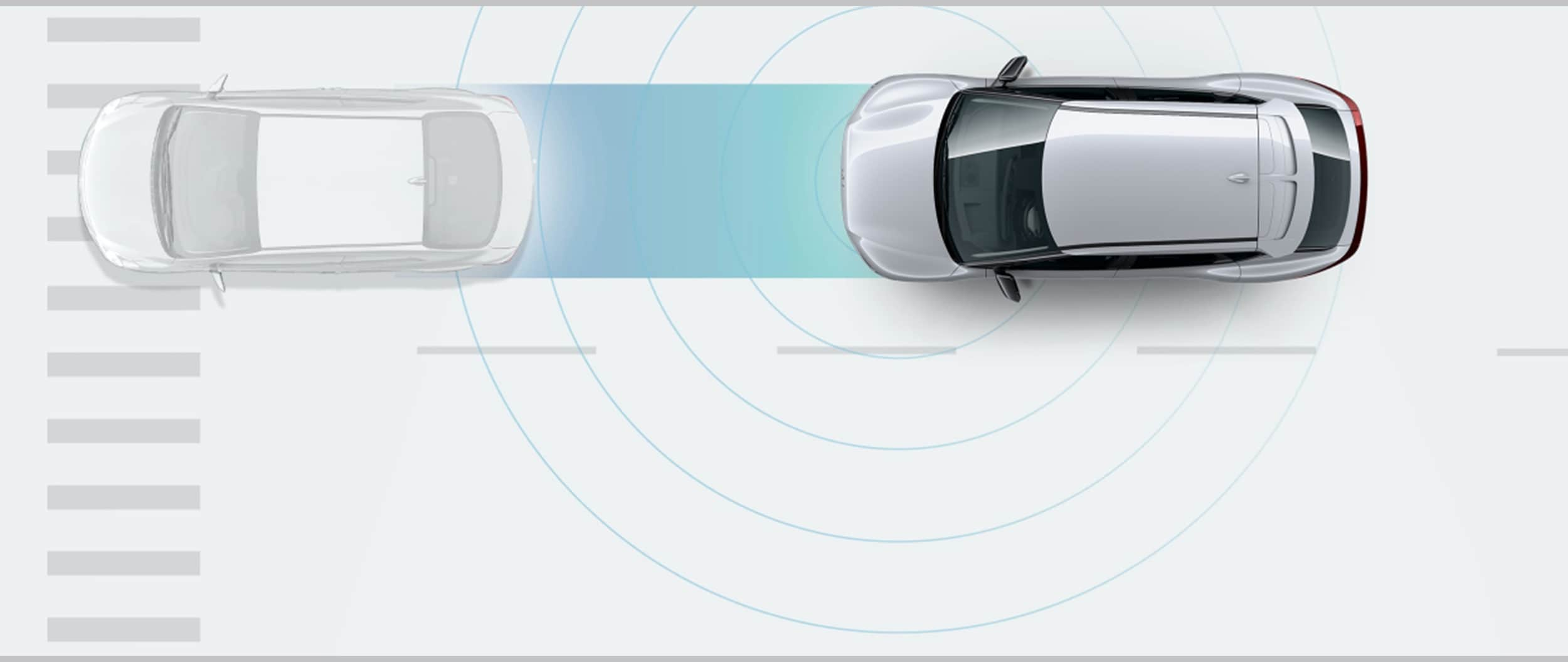 Highway Driving Assist 2
Using a forward-facing camera, radar sensors, and navigation data, Highway Driving Assist 2 assists with maintaining a comfortable speed and distance from the vehicle ahead of you. The system assists with steering wheel control when changing lanes (activated by the turn signal) with a one touch button setting for speed.
24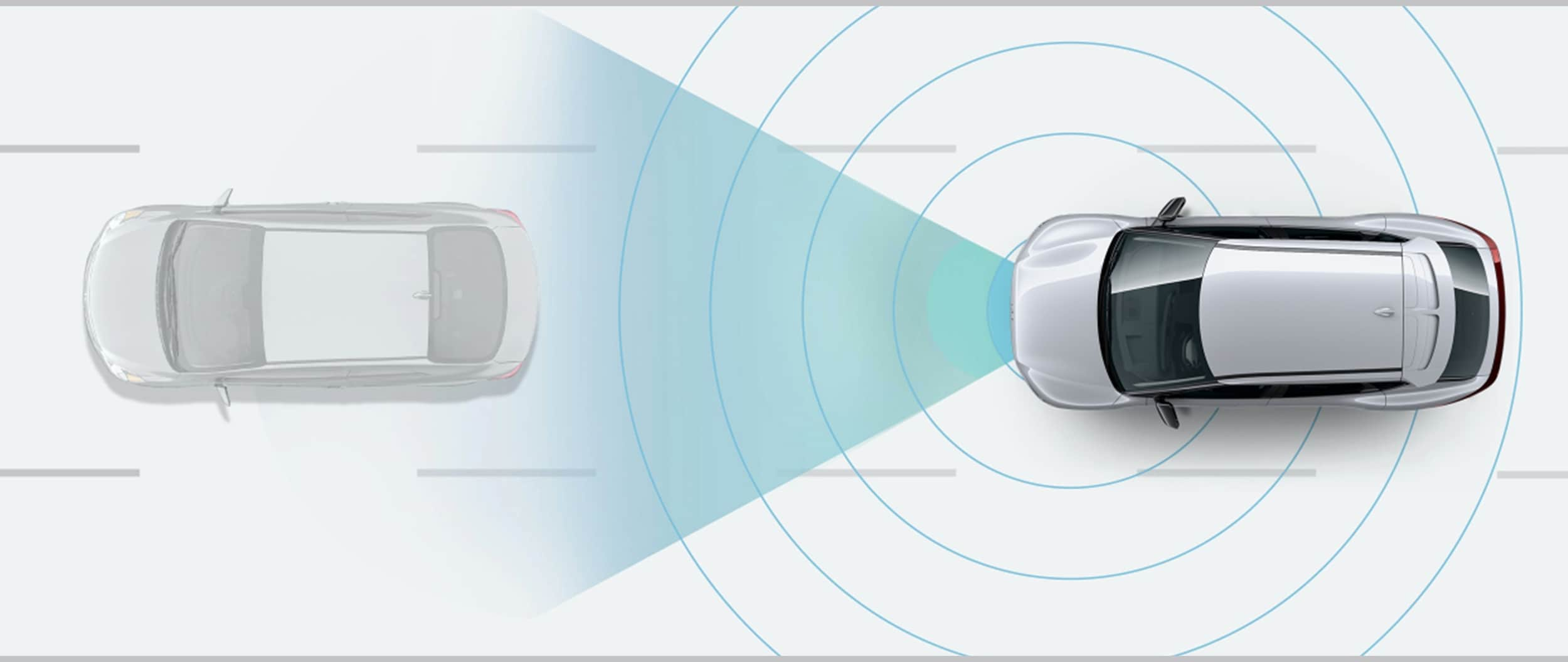 Rear Cross-Traffic Collision-Avoidance Assist
If oncoming obstacles are detected while backing up, the standard Rear Cross-Traffic Collision-Avoidance Assist can alert the driver or apply the brakes to help avoid a collision. Front and rear parking sensors also alert when approaching obstacles.
25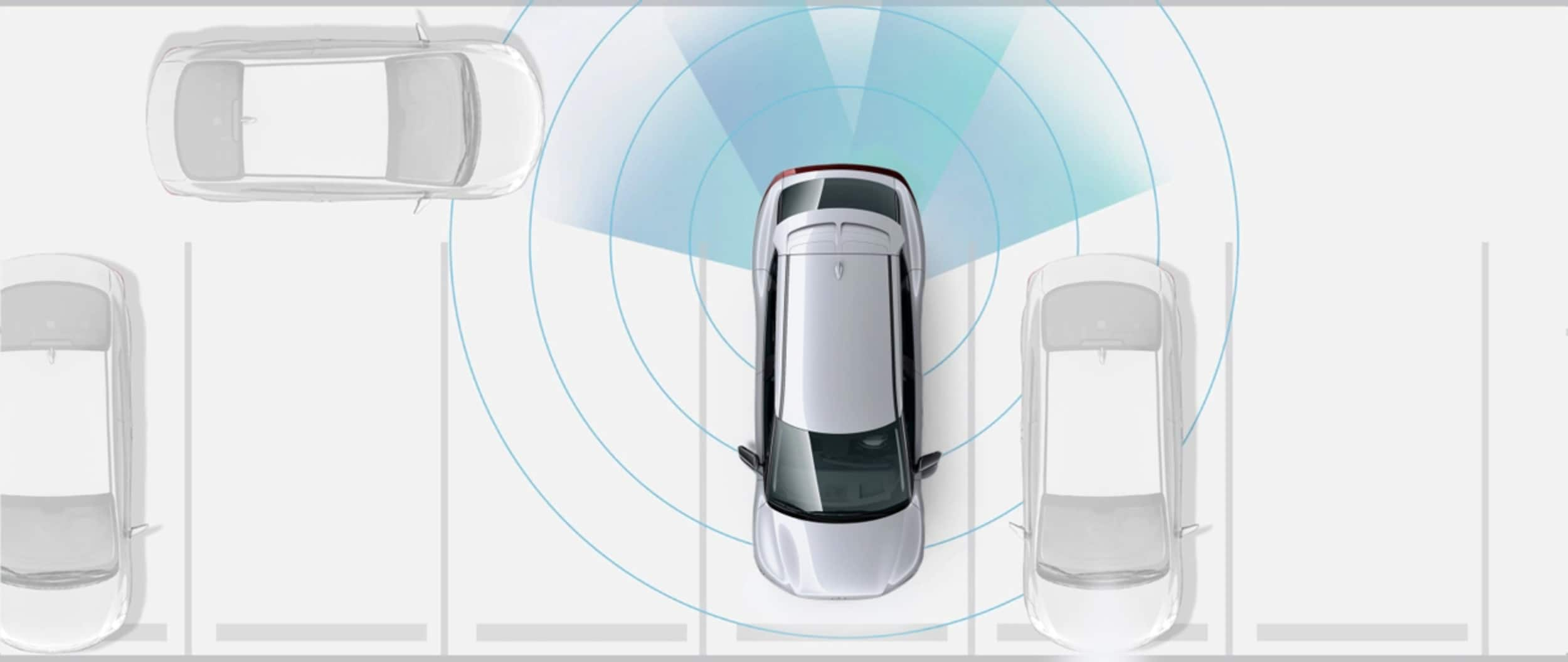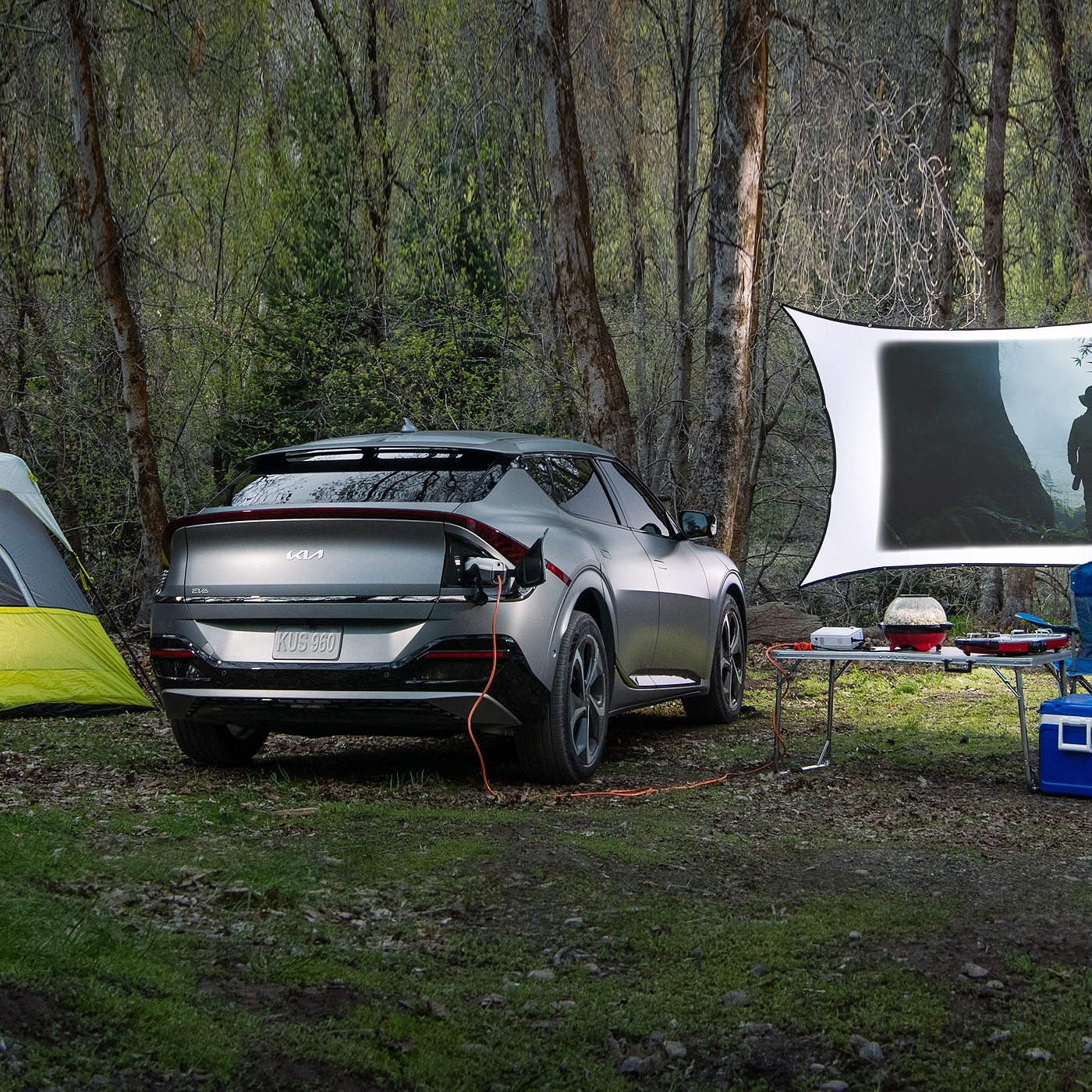 GUINNESS WORLD RECORDS
EV6 earns a GUINNESS WORLD RECORD title for the shortest charging time to cross the US in an EV.4

1 - Pre-production EV6 model with optional features shown. Features, colors, materials, accessories and specifications on pre-production model may vary from production model.
Based on EPA estimates on a full battery charge. Actual range will vary with options, driving conditions, driving habits, vehicle maintenance, charging practice, battery age, weather, temperature and your vehicle's condition. Battery capacity will decrease with time and use. For more information on range, please see Fueleconomy.gov.
Acceleration claim based on AMCI Testing Certified results of 2022 EV6 GT-Line AWD and 2021 Porsche Cayenne Coupe on dry pavement ESC off. Results reported November 2021. Actual results may vary depending on options, driving conditions, driving habits, and your vehicle's condition. Verification of these results should not be attempted. Always drive safely and obey all traffic laws.
With the 77.4 kWh battery, vehicle can add, approx. 217 range miles in 18 mins. w/800v DC fast charging. Charging time will vary. Fast charging impacts battery durability.
The Kia 10-year/100,000-mile warranty program includes various warranties and roadside assistance. Warranties include powertrain and the New Vehicle Limited Warranty (Basic). All warranties and roadside assistance are limited. See retailer for details or go to kia.com.
No system, no matter how advanced, can compensate for all driver error and/or driving conditions. Always drive safely.

2 Tied in 2020. For J.D. Power 2020 award information, visit jdpower.com/awards

3 The Kia 10-year/100,000-mile warranty program includes various warranties and roadside assistance. Warranties include powertrain and the New Vehicle Limited Warranty (Basic). All warranties and roadside assistance are limited. See retailer for details or go to kia.com.

4 Title was achieved by Reid Harper and Casey James Rutherford (USA) in a Kia EV6 on November 11, 2021.

5 Acceleration claim based on AMCI Testing Certified results of 2022 EV6 GT-Line AWD and 2021 Porsche Cayenne Coupe on dry pavement ESC off. Results reported November 2021. Actual results may vary depending on options, driving conditions, driving habits, and your vehicle's condition. Verification of these results should not be attempted. Always drive safely and obey all traffic laws.
Pre-production EV6 model shown. Features, colors, materials, accessories and specifications on pre-production model may vary from production model.

6 - No system, no matter how advanced, can compensate for all driver error and/or driving conditions. Always drive safely.

7 With the 77.4 kWh battery, vehicle can add, approx. 217 range miles in 18 minutes w/800v DC fast charging. Charging time will vary. Fast charging impacts battery durability.

8 Kia Connect is a mobile app that was formerly identified as "Kia UVO link. "Purchase/lease of certain 2022 and newer Kia vehicles with Kia Connect or UVO link includes a complimentary 1-year subscription to its most comprehensive package, starting from the new vehicle retail sale/lease date as recorded by the dealer. After your complimentary 1-year subscription expires, continued access to the full suite of Kia Connect or UVO link features available on your Kia will require a paid subscription at the then-current subscription rate; otherwise, your use of certain features may immediately terminate. Use of Kia Connect and UVO link is subject to agreement to the Kia Connect Privacy Policy (available at https://owners.kia.com/us/en/privacy-policy.html) and Terms of Service (available at https://owners.kia.com/us/en/terms-of-service.html). Complimentary Kia Connect and UVO link subscriptions are transferable to subsequent owners during the original service term. Only use Kia Connect when safe to do so. Kia Connect and UVO link is currently unavailable for Model Year 2022 and newer vehicles sold or purchased in Massachusetts; please see the Kia Owners Portal for updates on availability. Kia Access with UVO, Kia Connect, or the UVO link App is available from the Apple® App Store® or Google Play.™ Kia America, Inc. reserves the right to change or discontinue UVO link or Kia Connect at any time without prior notification or incurring any future obligation. Message and data rates may apply. Cellular and GPS coverage is required to use most features. Kia Connect and UVO link features may vary by model, model year, and trim level. Features, specifications, and fees are subject to change.
Failure to pay attention to travel conditions and vehicle operation could result in loss of vehicle control. Always drive safely and use caution.

9-240V charging time based on Kia Motors Corporation testing.
Kia Connect is a mobile app that was formerly identified as "Kia UVO link."Purchase/lease of certain 2022 and newer Kia vehicles with Kia Connect or UVO link includes a complimentary 1-year subscription to its most comprehensive package, starting from the new vehicle retail sale/lease date as recorded by the dealer. After your complimentary 1-year subscription expires, continued access to the full suite of Kia Connect or UVO link features available on your Kia will require a paid subscription at the then-current subscription rate; otherwise, your use of certain features may immediately terminate. Use of Kia Connect and UVO link is subject to agreement to the Kia Connect Privacy Policy (available at https://owners.kia.com/us/en/privacy-policy.html) and Terms of Service (available at https://owners.kia.com/us/en/terms-of-service.html). Complimentary Kia Connect and UVO link subscriptions are transferable to subsequent owners during the original service term. Only use Kia Connect when safe to do so. Kia Connect and UVO link is currently unavailable for Model Year 2022 and newer vehicles sold or purchased in Massachusetts; please see the Kia Owners Portal for updates on availability. Kia Access with UVO, Kia Connect, or the UVO link App is available from the Apple® App Store® or Google Play.™ Kia America, Inc. reserves the right to change or discontinue UVO link or Kia Connect at any time without prior notification or incurring any future obligation. Message and data rates may apply. Cellular and GPS coverage is required to use most features. Kia Connect and UVO link features may vary by model, model year, and trim level. Features, specifications, and fees are subject to change.
Charging equipment shown for illustration purposes only. Charger selected as gift by purchaser may vary in appearance and performance from model shown. Cost of installation is not included. Installation of charger may require permissions, approvals, or permits. Terms and conditions apply.

10 Based on EPA estimates on a full battery charge. Actual range will vary with options, driving conditions, driving habits, vehicle maintenance, charging practice, battery age, weather, temperature and your vehicle's condition. Battery capacity will decrease with time and use. For more information on range, please see Fueleconomy.gov.

11 Minimize use of fast charge to help preserve battery.

12 Driver's Assistance features are not a substitute for safe driving and may not detect all objects around or behind vehicle. Always drive safely and use caution.

13 Warning: Driving while distracted can result in a loss of vehicle control that may lead to an accident, severe personal injury, and death. The driver's primary responsibility is in the safe and legal operation of a vehicle, and use of any handheld devices, other equipment, or vehicle systems which take the driver's eyes, attention and focus away from the safe operation of a vehicle or which are not permissible by law should never be used during operation of the vehicle.

14- 1 Warning: Driving while distracted can result in a loss of vehicle control that may lead to an accident, severe personal injury, and death. The driver's primary responsibility is in the safe and legal operation of a vehicle, and use of any handheld devices, other equipment, or vehicle systems which take the driver's eyes, attention and focus away from the safe operation of a vehicle or which are not permissible by law should never be used during operation of the vehicle.

15 - Failure to pay attention to travel conditions and vehicle operation could result in loss of vehicle control. Always drive safely and use caution.
GT interior shown. Delayed availability.

15-Towing requires additional equipment. See Owner's Manual for towing capacity, additional instructions and warnings. Always use caution while towing.

16 - Virtual Valet Parking Assist requires driver engagement and may not detect all objects around vehicle. Always use caution.

17-Apple and the Apple logo are trademarks of Apple Inc., registered in the U.S. and other countries. App Store is a service mark of Apple Inc. App runs on your smartphone cellular data service. Normal data rates will apply.
Kia Connect is a mobile app that was formerly identified as "Kia UVO link."Purchase/lease of certain 2022 and newer Kia vehicles with Kia Connect or UVO link includes a complimentary 1-year subscription to its most comprehensive package, starting from the new vehicle retail sale/lease date as recorded by the dealer. After your complimentary 1-year subscription expires, continued access to the full suite of Kia Connect or UVO link features available on your Kia will require a paid subscription at the then-current subscription rate; otherwise, your use of certain features may immediately terminate. Use of Kia Connect and UVO link is subject to agreement to the Kia Connect Privacy Policy (available at https://owners.kia.com/us/en/privacy-policy.html) and Terms of Service (available at https://owners.kia.com/us/en/terms-of-service.html). Complimentary Kia Connect and UVO link subscriptions are transferable to subsequent owners during the original service term. Only use Kia Connect when safe to do so. Kia Connect and UVO link is currently unavailable for Model Year 2022 and newer vehicles sold or purchased in Massachusetts; please see the Kia Owners Portal for updates on availability. Kia Access with UVO, Kia Connect, or the UVO link App is available from the Apple® App Store® or Google Play.™ Kia America, Inc. reserves the right to change or discontinue UVO link or Kia Connect at any time without prior notification or incurring any future obligation. Message and data rates may apply. Cellular and GPS coverage is required to use most features. Kia Connect and UVO link features may vary by model, model year, and trim level. Features, specifications, and fees are subject to change.

18 - Towing requires additional equipment. See Owner's Manual for towing capacity, additional instructions and warnings. Always use caution while towing.

19 - "Meridian" is a trademark of Meridian Auto

20 - "Vegan Leather" describes synthetic leather made from no animal by-products.

21 - Blind-Spot View Monitor and Blind-Spot Collision-Avoidance Assist-Rear is not a substitute for safe driving and may not display or detect every object surrounding the vehicle. Always drive safely and use caution.
Images shown for illustration only.

22 - When engaged, Surround View Monitor is not a substitute for safe driving and may not display all objects around vehicle. Always drive safely and use caution.
Images shown for illustration only.

23 - When engaged, Forward Collision Avoidance Assist is not a substitute for safe driving and may not detect all objects in front of vehicle. Always drive safely and use caution.
Image shown for illustration only.

24 - When engaged, Highway Driving Assist 2 is not a substitute for safe driving, may not detect all objects around the vehicle, and only functions on certain federal highways. Always drive safely and use caution.
Image shown for illustration only.

25 - Rear Cross-Traffic Collision-Avoidance Assist is not a substitute for safe driving, and may not detect all objects behind vehicle. Always drive safely and use caution.
Image shown for illustration only.

#1 Brand in Vehicle Dependability Study
Kia ranks highest among mass market brand in long-term reliability according to J.D. Power.2