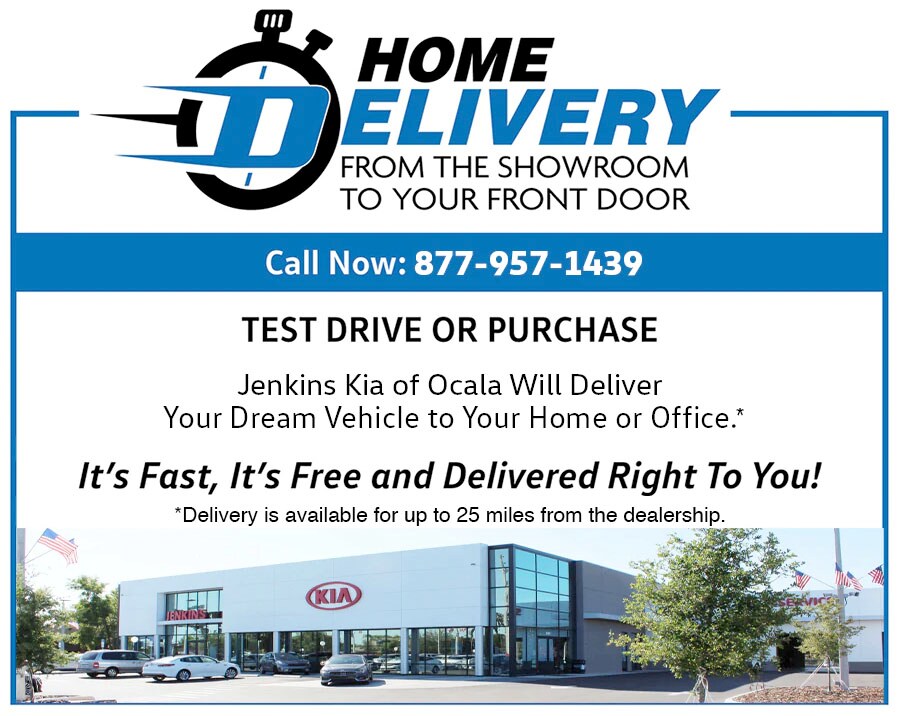 How It Works:
1. Choose from a large inventory of new or pre-owned vehicles
2. Select the vehicle you want to test drive or purchase
3. Fill out this form and click "Submit"
4. We will be contacting you with details shortly
Make an Inquiry
* Indicates a required field
At Jenkins Kia of Ocala, we want to make the process of purchasing or leasing a new vehicle as convenient as possible. That's why when your new vehicle is ready, we'll bring it to you. Our dealership offers home delivery of our new Kia vehicles right to your doorstep, so you can enjoy your new ride without having to leave your home to come get it!
All our new Kia vehicles such as the Optima, Forte, Soul, Cadenza, K900, Sorento, and Sportage can be brought to your doorstep when the vehicle arrives in our showroom if you've ordered one, and once all the paperwork and financing is finalized and squared away. We can also bring your vehicle not only to your home but an agreeable location such as work, to give you the ultimate convenience. We will bring vehicles for home delivery to those in the Ocala, Lady Lake, The Villages, and Leesburg, FL but certainly won't limit ourselves to those areas either, as our goal is to make the experience as convenient as possible for you.
We invite you to stop into our showroom to learn more about the many different new Kia options we have and which one will suit your needs. Kia vehicles provide style, technology, comfort, efficiency, power and more, and we're confident you'll find one you want to take home, or have driven to your home with our home delivery service.
If you have any questions about the process, feel free to reach out to us here at Jenkins Kia of Ocala, and we'd be happy to answer them for you, and discuss all your options today!