Jenkins Collision Center of Ocala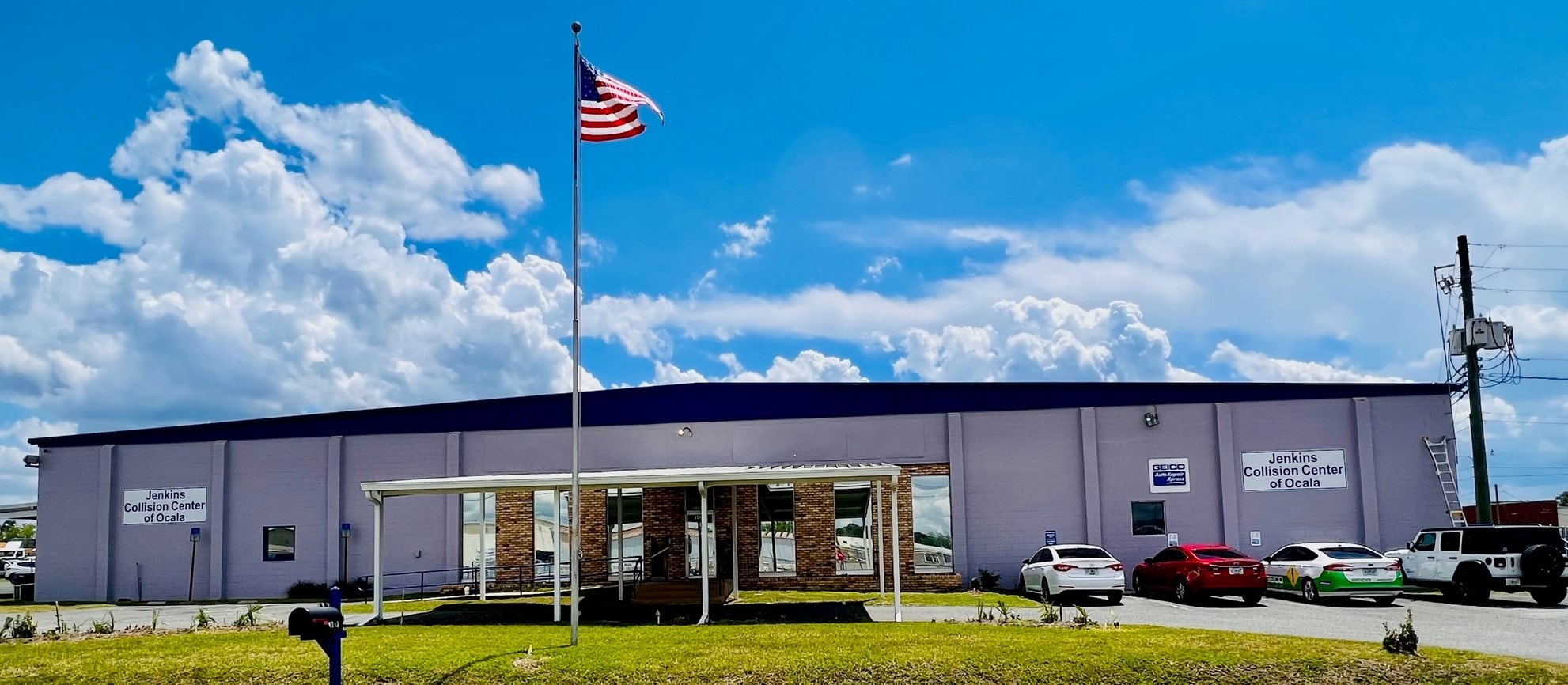 Serving Marion County for Over 20 Years
We make vehicles look brand new again.

At Jenkins Kia of Ocala, we're proud to provide top-quality collision repair services for all types of vehicles. Whether you've experienced a minor scratch or need a major repair, our skilled technicians in our collision center have the expertise and experience to deliver outstanding results every time. If you're ready to get back behind the wheel of your vehicle and have it looking and driving good as new, contact us today at Jenkins Kia of Ocala here in Ocala, FL.
Our Services


Contact Us

Address:        1420 SW 12th St, Ocala, FL 34471
Phone:           (352) 629-6143
Hours:            Mon - Fri: 7:30AM - 5:30PM
                       Sat: 9:00AM - 12:00PM
                       Sun: Closed
Make an Inquiry
* Indicates a required field

Expert Auto Body Repair at Jenkins Collision Center
One of our specialties here at Jenkins Kia of Ocala is our paint and refinishing services, using water-based paints and non-hazardous materials. We also recycle materials and use energy-efficient equipment to reduce our carbon footprint. By choosing Jenkins Kia of Ocala for your auto body repair needs, you can feel good about supporting a business dedicated to sustainability and the community. Your satisfaction with our service is always the most important part of our job. We understand that getting into a collision can be a stressful experience, and we are committed to making the repair process as smooth and hassle-free as possible. From the initial estimate to the final inspection, the team communicates with you every step of the way to ensure your satisfaction with the repair work.  
Insurance Claims Process
Filing an insurance claim for collision repair can be a stressful and confusing process, but it doesn't have to be! At Jenkins Kia of Ocala, our collision center team is committed to making the process as smooth and hassle-free as possible. We work directly with insurance companies to ensure you receive the full extent of your coverage, and provide detailed estimates and explanations to help you understand the repair process and any associated costs. We also understand that this situation can be inconvenient, so we offer rental car services to help you get back on the road while your vehicle is being repaired. Whether it's a minor fender bender or major collision damage, we have the expertise and resources to get vehicles back on the road safely and quickly.  
Kia Repairs in Ocala, FL
We've been serving the Ocala community for over 25 years, and our commitment to quality workmanship and customer satisfaction has always been a priority. Our skilled technicians and state of the art equipment can handle a wide range of collision repair needs, from minor dents and scratches to major structural damage.. Some services we offer include paintless dent repair, wheel repair, glass replacement, and more. Our goal is to restore each vehicle to its pre-accident condition, using the latest techniques and equipment to ensure a seamless and flawless repair.  
Contact Jenkins Kia of Ocala Collision Center Today
If you're in need of auto body repair services, look no further than Jenkins Kia of Ocala. With a commitment to quality, expertise, and customer satisfaction, we deliver outstanding results for every customer. From paint and refinishing services to insurance claims processing, we offer a comprehensive range of collision repair services to meet all of your needs. Contact us today to schedule a consultation and experience the difference for yourself.